Welcome back again to our live cricket blog. We're here to provide you some live actions about the West Indies tour of England – a three Test series that marks the resumption of international cricket post the Covid-19 pandemic break. Today is Day five of the second Test between the two cricket enthusiast countries.
Englishmen welcomed the Windies with open arms, where the visitors won the first Test match by a marginal score. West Indies tour of England is not only about cricket, but also about how this sport supports the Black Lives Matter movement.
Enough talking about the overall tour. Let's get back to business and talk about today's action packed day. We're in for a fascinating final day's play at Old Trafford, Manchester, as England race against time and weather to derive a positive result.
BUILD UP:
There was enough resolute seen yesterday as both Joe Butler and Ben Stokes were promoted to open the innings and quickly add to the lead of 182 they had already fetched. Despite Butler having just lasted for three deliveries, England banked on Stokes this morning to come up with some smashing blows. It will be interesting to see who comes out to bat next in case Stokes or Joe Root are dismissed.
The lead is currently 219 and the big question is 'how much is enough'? England will have to figure that out quickly because they will give West Indies a sniff in case they declare a little too early. But with the pitch not really a minefield now, the hosts perhaps do have to take that gamble if they are looking to level the series.
Once again, welcome to the live blog of West Indies tour of England for the final day's play. Hopefully, the weather stays clear.
LEAD CROSSES 250:
Having taken only four over, England have crossed the lead past 250. While Stokes has been hitting the boundaries, Root is taking care of singles and most importantly, not letting to lose the wicket. The partnership has crossed 50. Will they target 300+, probably batting for more six overs?
Along with the terrific partnership, Stokes has scored a wonderful half-century in just 36 deliveries, getting to the milestone in style with a six over long-off off Gabriel. As we speak, Root is run out, sacrificing his wicket as Stokes tried to get back on strike.
West Indies NEED 312 TO WIN OFF 85 OVERS:
England declare their second innings at 129 for 3, with Stokes finishing with an unbeaten 78 off 57, including four boundaries and three sixes. Will West Indies go after this target?
IT IS A BROAD WICKET!:
As Brathwaite clipped one for three and Campbell drove through the covers for a boundary, England taste success. Looking to push a delivery outside off, Campbell gets a faint nick to the keeper. Butler, however, wasn't sure but but the bowler was and he insisted the skipper Root to take a review. And replays revealed a little spike on the snicko, justifying Broad's coaxing. WI are now 7 for 1.
A rough start already or they will pull this one as well?
HOPE FALLS FOR WI:
A nip-backer from Broad and Hope has no answer to it. Hope moved across as he attempted to defend it but made no contact and was bowled. West Indies are 25 for 3 at Lunch, with their hopes resting on Chase, who survived a review off the last ball before the break.
MORE TROUBLE FOR THE WINDIES:
Having been constantly shouldering arms, not hitting the incoming delivery from Broad proves costly to Chase. He's struck on the flap of his pad and is given a leg- before wicket out.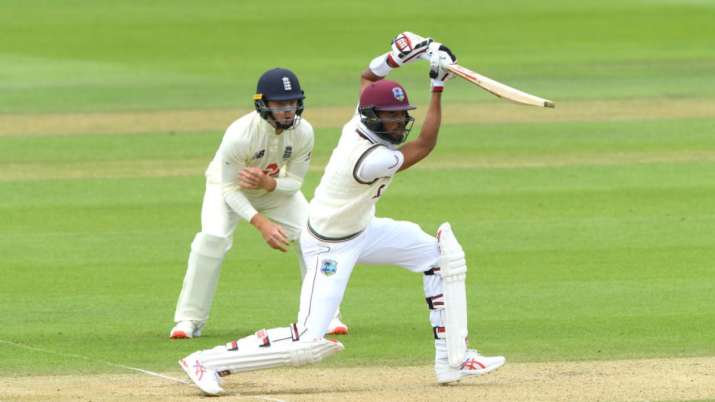 Without a review, the batsman heads back to the pavilion for 6 to leave West Indies at 37 for 4.
A RAY OF POSITIVITY:
Despite the sudden fall of wickets, Blackwood is determined to play his shots – hitting three fours off Curran in the 18th over. Brooks, meanwhile, has been solid – leaving and defending – to keep England at bay.
Well, this West Indies tour of England is coming with surprises with every passing over. A quick question – who do you think will win the second Test? Mention your views in the comments below.
Read more such live cricket updates and massively-hit content on Mad Over Cricket.