Amidst the deadly health pandemic, cricketers are having some fun on social media, especially by connecting with their fans in some or the other way. One of the fun incident that we recently noticed was Yuvraj Singh poking fun at Rohit Sharma's picture with his wife, Ritika Sajdeh, which left the fans laughing in bits.
Rohit Sharma took to Instagram an adorable picture with Ritika. As fans showered all their love on the picture, there we had Yuvraj Singh taking a little satire on the opening batsman.
Yuvraj – often known for his witty comments and friendly gestures that he shares with his teammates, especially on social media – commented on Rohit-Ritika's picture and left his fans for a fun delight. Rohit Sharma captained the photo: "Always hold on to what you love", and as always, the former all-rounder didn't leave a chance to poke some fun.
Taking a cue from Rohit's caption, Yuvi commented by asking the opener if he can hold onto his cheeks. "I love your cheeks can I hold on to them," Yuvraj Singh left a comment on Rohit's post.
"@yuvisofficial paji tusi great ho," a fan wrote. Another one joined in saying, "@yuvisofficial for that you will need @ritssajdeh permission."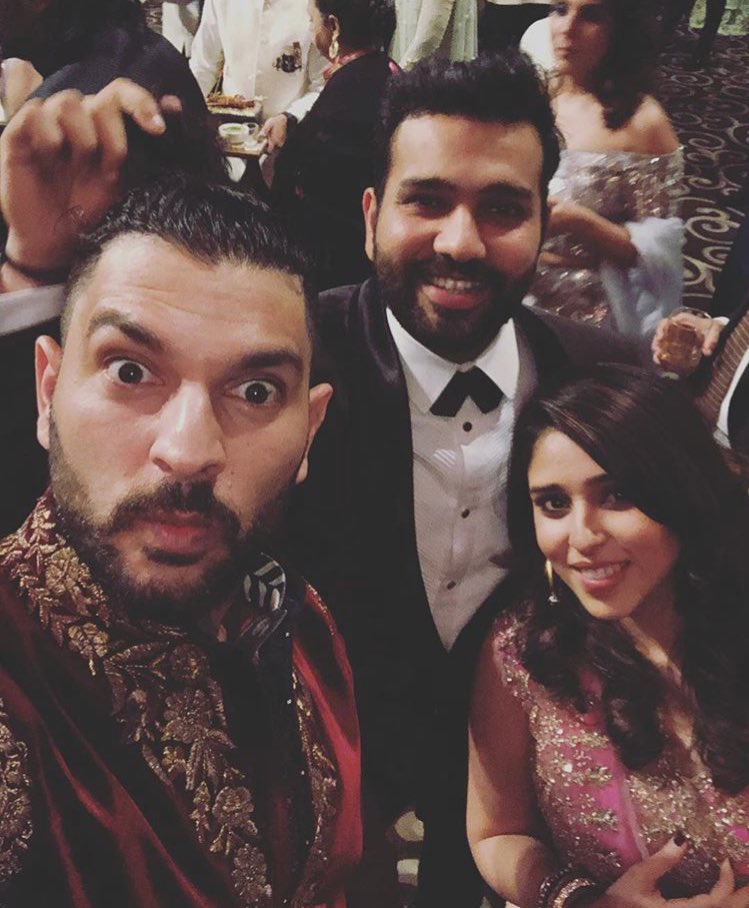 Yuvi shares a great relationship with Ritika as well. Rohit has earlier revealed that his wife ties rakhi to the left-handed batsman. Not just this, Sharma also admitted that initially when he joined the Indian team, he had a massive man-crush on Yuvraj Singh. Hitman had mentioned how he just wanted to walk up to Yuvraj and have a little chat and watch him prep himself for the match.
"When I came into the team, my cricket crush was Yuvraj Singh. I just wanted to talk to Yuvraj; I wanted to see how he prepares, the role that Yuvraj had; I had to essay the same role eventually in the middle order."
"When it came to fielding, I wanted to learn from Yuvraj. There was an incident in which I had entered the team bus early, I was half an hour early, and I had taken the seat which was originally reserved for Yuvraj. He then entered the bus, and I thought 'that is how you make an entry'," Rohit added.
Read more such massively-hit content on Mad Over Cricket.